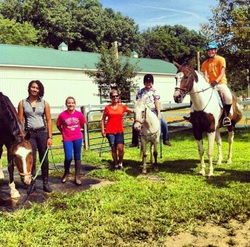 Riding Camps2017 Camp Dates: Summer Camp:
June 19th – June 23rd
July 10th – July 14th
July 31st – August 4th
Camps run Monday through Friday, 8:00 am - 2:00 pm with options for before and after care. Camps are for all riding abilities and campers must be 6 yrs old by the start of camp. Campers are separated into groups by their riding ability for the riding portion of the day. Camp cost is $325, and a $100 non-refundable deposit is required at the time of registration to secure a spot. The outstanding fee is required 7 days prior to the start of camp.
Before and after care will be provided at $35 per day. Before care starts at 7am and after care ends at 5:30pm.
Summer camp activities include the following:
Arrival of children, assignment of riding groups, and review of horse safety
Riding lesson

Horse Care, cleaning of tack, etc.
Morning break
Activities and games
Lunch (packed lunch to be brought by camper)
Arts and Crafts
Departure
Campers should bring a water bottle, packed lunch, a change of clothes and shoes as we may play water games. Each camp ends on Friday with a horse show to demonstrate what the campers learned during their week of camp. The camper's family and friends are encouraged to attend this event.
Please register as early as possible to secure a spot in preferred week.
---